Disclaimer: This is a sponsored post. However, all thoughts and opinions are my own.
Did you wear braces when you were a teenager? I never did, but tons of my friends did. And who can forget Richie Cunningham and his Happy Days girlfriend in their notorious "metal mouth lock" on their first date? :-O Oh my gosh, the horror stories I heard about those nasty metal braces. Two of my friends even had to wear the metal neck brace and another was doomed to retainers for the rest of her life. Golly gee, as if the teenage years aren't awkward enough, orthodontists created braces to make the poor kids look like Frankenstein.
When my dentist told me that two of my kids needed braces (as in "medically necessary"), I nearly fainted. All I could envision was a household of wailing Frankensteins for the next four years. I was glad to hear that neck braces had gone out with Purple Rain and roach clips, but the metal boxes were still glued to their teeth. Instead of metal wires, the orthodontist used tough plastic ones. It was still hard on the girls, and they still have to wear their retainers.
Now I find out that my son needs braces. Yes, "medically necessary." His teeth are terrible, a mangled mess. Honestly, I didn't think they could even glue metal boxes on his teeth, they are so bad. But now there's this new-fangled technology called Invisalign. Have you heard of them? They are clear braces — basically a clear plastic retainer that covers the teeth. They are remade periodically to reposition the teeth into place. Unlike metal boxes and wires, Invisalign braces can be temporarily removed for brushing and flossing and important things like EATING — even eating popcorn, caramel and peanut butter! It's truly remarkable!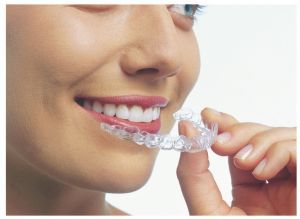 Heck, I might even get Invisalign braces…
Aren't they neat? I love the fact that you can remove them to clean your teeth. Oh, how my girls languished, trying to floss underneath those metal contraptions! Ugh! I like the Invisalign idea.
If this piques your interest, check out the Invisalign website, or get more information on the Invisalign Facebook page or their Twitter page. On the website, you can do a location search to find qualified Invisalign doctors in your area and get an an Invisalign smile assessment. Of course, you should ALWAYS get a doctor's opinion about these things before you leap in. This blog post is not medical advice — I'm only remarking about my own experiences and opinions. Disclaimer: This is a sponsored post. However, all thoughts and opinions are my own.
I personally think Invisalign sounds very cool. And it's a HUGE improvement over the painful metal mouth. Defintely take a peek at the technology.