I am an American. Worse, I am a Northeasterner American. Which means that I CANNOT COOK TASTY RICE. The rice I cook tastes DISGUSTING. I admit it! I have finally faced reality! That, or the family may finally mutiny unless I do. My rice was always too soft, mushy, and bland. I tried Basmati rice for a while, and that turned out nicer (i.e., it was edible), but it took a lot of time to wash, rinse, soak, cook, and wash all the dishes I used. Ugh.
People, I have seen the light.
GET A RICE COOKER.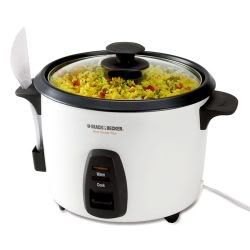 Oh my word, why did I never get one of these before?!?!? Why have we suffered all these years?!?
I got a Black & Decker Rice Cooker and I urge you to do the same! Seriously, the thing is amazing. I've always been a real miser when it comes to buying small appliances. I never got a microwave unti lI was 35, never got an electric can opener until last year, never got a bread machine until a few years ago. Wow, what a difference in my life. Well worth the money. But the rice cooker, which I always thought was a silly fad, an expensive fob for "rich" women, is by FAR my favorite appliance. I use it several times a week, and it always makes the best rice. I am a rice cooker convert!
And they are not expensive, not at all! There's a sweet Black & Decker rice cooker on sale right now at Buy.com for around $20. And the shipping is FREE! Get one for you, for your daughter, for your friends, for your sisters, for your mailman! The price is so low, and these things are totally cool! Rice is an inexpensive meal, so there are savings on that end, too. I love my rice cooker!! And best of all, ME, the Northeasterner– I can finally make edible, tasty rice!
By the way, while you're at Buy.com, don't forget to be a good Frugal Hack and check out their sale page. They have weekly sales and daily sales, stuff for very low prices. Buy.com has "everyday" stuff, too– household supplies, appliance parts, software, cooking tools, bedding, etc. It's a phenomenal store and I love shopping there and grabbing deals. Check it out! You never know what great stuff you'll find, and better yet, it'll be stuff on SALE!