Have you been checking out Buy.com's Weekly Deals sale page?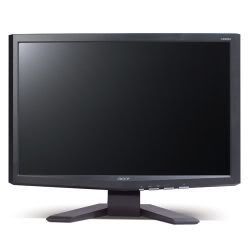 I have been, finding lots of deals, and here's another spectacular deal: an Acer 22″ Widescreen LCD monitor. I've been getting some Acer products, and I am very impressed with the brand. I think Acer exceeds HP (and I used to be a die-hard HP fan). I have an Acer computer that I love, and it has been extremely reliable.
This Acer monitor is selling at Buy.com for $149.99, and it includes free shipping. For such a large name-brand monitor, I think the price is phenomenal! I'm trying to weed out my old CRT energy-sucker monitors (we have lots of computers and therefore lots of monitors, and therefore a scathing energy bill every month– this IS New York State, after all). So anyway back to Buy.com, lol, I have noticed that deals like this go fast, believe me. I once saw a great deal, but procrastinated, and two days later, the product was sold out. So if you see something you like, try to get it then.
Buy.com doesn't just offer electronics– they have appliances, too– including large appliances. They also sell microwaves, cookware, grills, patio accessories, outdoor lighting, garden and landscaping materials and accessories– loads and loads of stuff! You have got to check them out. I never buy anything online without checking out Buy.com forst. And in many cases, Buy.com offers free shipping. This with their superb customer service and easy check-out makes them my favorite online store.