Well, despite gloomy news in the housing market, people still have rickety old houses that need renovating (like yours truly). I've been keeping my eye on "trends" for renovations and new construction for several years now, trying to stay slightly ahead of the game; so, when it comes my time to gut my kitchen or bathroom, I'll be modernized and efficient (and therefore won't have to re-update in 5 to 10 years like so many of my neighbors do). One thing I have learned is– keep it simple. You can't go wrong with keeping things simple. I try to think beyond design and make systems and functions simple, too.
According to the UK's House to Home, the bathroom trends for 2009 are:
Natural Beauty
Hotel glamour
Freestanding baths
Shower power
Bathroom storage
I like that list (nice and simple!), however it's missing one thing– a trend toward "universal design." Universal design is what I am considering to be the ideal standard bathrooms design. With the majority of the populace getting older (Baby Boomers and such), universal design is becoming almost standard in new bathroom design, but it is commonly overlooked in renovation. I am using it in small ways myself now, and intend on going that route entirely when I remodel the bathrooms.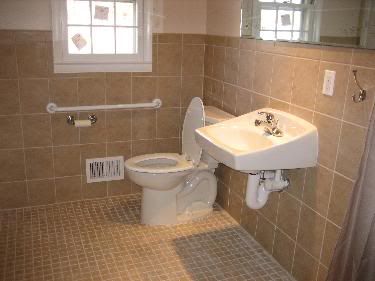 Universal design is kind of like the ergonomics for bathroom accessories. For example, instead of round doorknobs, which are more difficult for older hands to twist and open, use lever door handles. Instead of moulded bathtubs that are integrated into the wall (bathtubs that are very difficult to climb in and out), use kudos showers that have doors, even wider, bi-fold doors,– you can just walk in. Some showers even have stools and should definitely have handles.
Common universal design features:
Grab bars in tub/shower and around toilet area
Walk-in tubs and/or showers; showers with seats; tub handles placed to the side and not inside the tub/shower
Elevated (taller) sinks and cabinets, to eliminate bending to wash hands and face
Lever door handles and lever faucet handles
Wider doorways and wider tub/shower entrances (36″ wide) to accommodate wider people and/or wheelchairs
Taller toilets, or toilets on pedestals, to eliminate bending; elongated toilets instead of round ones
So while I like natural neutral colors, hotel glamour, and "shower power," I think a trend that should remain consistent and never become outdated is universal design. Don't overlook this when renovating or building! You will thank yourself when you are older.