Well, I finally broke down and bought a rice cooker. WHAT on EARTH took me so long?! I don't know why I waited– these things are so great!
I have always been a very poor cook when it came to rice. Either I bought the wrong kind, or I didn't baby it enough, or I don't have the patience… my rice always came out too mushy or too sticky. It was awful. It got to the point where I wouldn't serve it anymore.
I tinkered with the idea of getting a rice cooker, for a few years. I'm usually very slow to buy new appliances. But two weeks ago I saw a little Black & Decker Rice Cooker (me and Black & Decker are like THIS, man) for $21 and thought, "Well, why not?" Boy, what a difference it has made! We can actually eat rice again!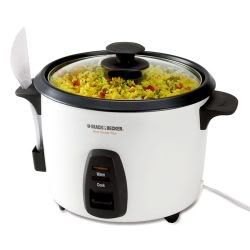 The kind I got has no name except "Black & Decker Rice Cooker Plus." It's supposed to make 16 cups of cooked rice. The instructions are so easy…. *slaps head* what have I been waiting for all these years! If I knew it was this easy… sheesh!  This appliance is very much worthwhile.
I've made the full 16-cup recipe and the 5-cup recipe so far. The 5-cup recipe size has turned out the best, very fluffy and light. The 16-cup batch wasn't bad– much much better than anything I've ever done on the stovetop– but it was a little stickier and moister than the smaller batch.
All you do it measure cups of rice (this cooker came with a measuring cup and a plastic spatula). Dump the cups of rice into the cooker. Then, add water up to the line of how many cups your poured. For example, I poured in 5 measuring cups of rice, I fill up the cooker with water to the line that says "5." I press the switch in the "cook" position and leave it for 25 minutes. It stops cooking automatically when done, although it goes into a "Keep Warm" position. I usually unplug the cooker right after it's done cooking, so the rice doesn't "Keep Warm" forever and get dry on the bottom of the bowl.
I've had great success with the cooker. I did read a lot of reviews at Amazon and WalMart about rice cookers before buying one. A lot of people say they have had problems, particularly with the "Keep Warm" feature burning the rice at the bottom of the bowl. Honestly, I think you'd have to have the cooker at "Keep Warm" all day for the rice to burn at the bottom! I don't know what these folks are talking about– I love this cooker and it has simplified my meal-making so much.
So thumbs up on this appliance!!